David Barrett is a Canadian-made composer and performer, specializing in redefining the boundaries of progressive rock and instrumental soundscapes.
David Barrett Trio was formed in early 2010, when David began composing music for an instrumental power trio. David Barrett Trio's self titled debut album, produced by Alex Lifeson (Rush), Alan Parsons (Pink Floyd), and Richard Chycki (Dream Theater), was released in 2013.
David will share his techniques for gaining access to a deeper level of creativity and inspiration in composing and performing during a week-long Mindfulness Through Music retreat created by Buddha Travel, January 30 to February 6, 2018, at the Hacienda Viva, Sotuta de Peon near Merida Mexico.
Cathleen: David, we couldn't be more excited to have you lead our first Buddha Travel Signature Retreat. When we learned about your deep belief in the transformative power of mindfulness through meditation, we knew that your teachings would be a perfect way to kick off a series of retreats designed to ignite greater creativity through Mindfulness. Can you tell us how you began to use Mindfulness to change your music?
David: About 20 years ago, I had been playing professionally for about 12 to 13 years, and I was doing well in my career. But I realized I wanted to make some changes – there was just something missing – I was having success, but I wasn't meeting my own personal expectations for my music. I had read about meditation, and I just started reading more about psychology, philosophy, Indian mysticism, Buddhism. I came across the writings of Ken Wilber, and that was transformative for me – I read everything of his I could find.
Cathleen: Was there a "moment" or an experience that really changed you?
David: Yes, one day I had a "transcendental" experience resulting from meditation and realized that I wanted to make music that makes people feel different. People have peak experiences all of the time, and in many ways – through music, art, meditation. But if you get a glimpse of higher consciousness, it may be fleeting, and you don't understand the meaning.
For me, it was through my meditation that I was able to gain access to a way of deepening my experience with music. With meditation, the access to your consciousness is deeper, longer.
Cathleen: So how did this experience change your music?
David: I realized that being technically good on your instrument is just not good enough. But if you change as a person, you make music that moves you, and hopefully others, more deeply.
I changed in two ways. First, it made me more focused, more resilient, and I gained more confidence in myself.
Second, I learned to be more organized in my thoughts, and clear-headed for performing.
As a result, things changed really quickly – I went from performing in tiny bars to large arenas. I had the confidence to understand that you can pull off things you never thought you could. Learning to be more conscious changes you – it makes things you thought were impossible, possible.
Cathleen: When you lead the Buddha Travel Retreat in Mexico with us, how will you help others to learn what you have learned?
David: I can't see how to excel if you are not mindful of your deeper consciousness, so I'm really excited to lead this retreat for hobbyists and professionals alike. Music schools and traditional "guitar workshops" don't address the missing piece for growth. They focus on 1st Tier thinking – rational lessons for composing and performing. But we are going to focus on 2nd Tier thinking – to become informed on a higher consciousness level.
We will address all aspects of writing music, the technical and theoretical. And we will have lots of opportunities to perform – with me on a one-on-one basis, in the group and just extemporaneously whenever we are inspired. We'll spend the time eating healthy food, taking inspirational trips to Mayan ruins – basically just freeing ourselves from the burdens of everyday.
Cathleen: What can the participants at the Mindfulness Through Music Retreat expect to come away with?
David: They can expect to free themselves from everyday burdens to focus on their creativity. While we will provide the space to transform with learnings, therapies and an atmosphere for people to have their own transcendental experience, we will also offer real, pragmatic tools for consciousness like visualization while performing, breath work, formless meditation – ways to command and deliver your music in the best way possible. Not to mention having some great jam sessions at a brand new music studio at a fabulous resort in Mexico!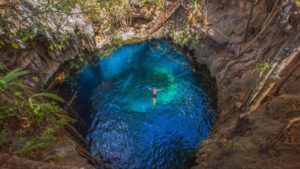 With Yoga Master Antonio Elugardo, Michael Hallé, Cathleen Johnson and Maestro Te-Moo (Eutimio) Sosa
April 19 - 26, 2018
Buddha Travel Signature Retreats Presents:
Register Now
To View the Details About this Retreat, Click this Link.  "We Came to Play Guitar" Retreat.